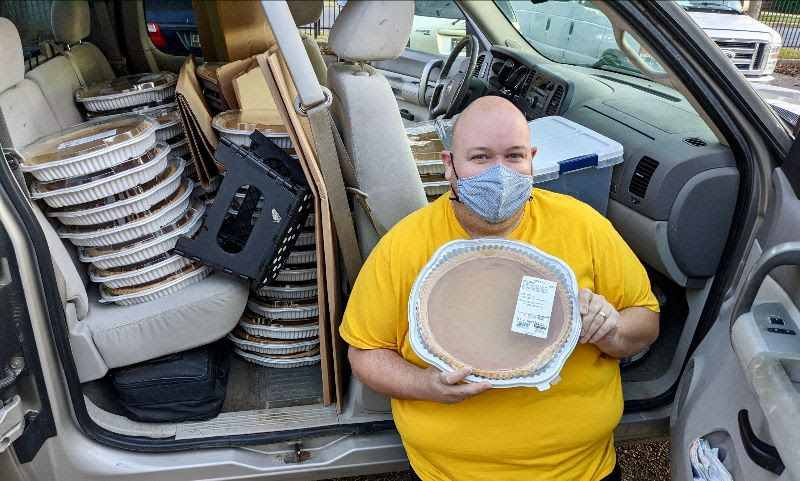 Hello Friends,
It's been 180 days since I've written to you, and I have missed it. UrbanPromise has been diligent, determined, and effective in kicking COVID these last six months, just as I promised you we would. We've all been through this pandemic together, friend, and I don't need to recount to you what we've all felt and experienced over these many months.
But now the long feared winter surge has arrived. Infection rates, hospitalizations, and deaths are all exponentially spiking towards new records. And in two weeks it will be much worse.
Naturally, that's why I want to talk to you about Pumpkin Pie, and its power to pummel a pandemic.
The Monday before Thanksgiving, UrbanPromise always has Thanksgiving dinner for our community. A full turkey dinner with stuffing, mac 'n cheese, collards, all the fixings – free – while our children and staff entertain us. It's a family dinner prepared by volunteers for over 400 people – children, teens, parents, grandparents, uncles and aunts, volunteers, staff, anybody in the UrbanPromise family – for a glorious, uniting night of transcendent fellowship and food. It is a true picture of heaven.
And, of course, there's Pumpkin Pie. (How could it be heaven without pie?)
COVID kills fellowship, rather literally. Surrendering our favorite evening of the year to that reality, swallowing another disappointment, and ceding victory to COVID seemed inescapable. But James Russell had an idea. Could we take the essence of the dinner to them? Maybe not the food, but the bond of fellowship that COVID can't break.
After some thoughts about Capriotti Bobbies and Wawa Gobbler bowls, (if you're not from Delaware, you may not recognize these culinary giants; after COVID put them on your bucket list:) James suggested Pie. (I know Pie is not capitalized, but when it is being used by God it needs to be capitalized!) The problem is our Pie options were expensive and poor quality. Then, at a critical moment in the scheming, I made a wrong turn at Costco and practically fell into the Pumpkin Pie refrigerator case. This was a divine turn of events. It would have been a felicitous accident but, regrettably, I caught myself before face planting. Cue angelic music for my revelation: six bucks, great quality, Giant Abundant Pies – capitalism, Costco, and Christianity. This had to be a winner!
We purchased a pick-up truck full (I'm talking 'if I have an accident I'll be crushed by Pies' full) of Pumpkin Pies, one for every family in our programs and schools plus a $10 Wawa gift card for every child we served. James worked out the logistics and UrbanPromise Prime leapt into action as staff, socially distanced, delivered the Pies. I delivered four myself and that's when I learned that these Pies needed a capital P.
At each door I knocked came suspicion, shock, joy, delight, delicious, and fellowship in that order. Literally, I realized those Pies were packed with resurrection power. The kind that comes from the love of Jesus. The kind that comes from loving each other. The kind that is not confined by apparent realities but is liberated by transcendent truths. Crucially, the Pie had no power until the door of each house opened to me. I felt, I mean literally felt, the power when the door was opened by the hand of our families and they greeted me. We are in fellowship and we could feel it. The delight, the joy, the love, the power of remembering that we shared, something that no pandemic could overcome.

At the last house JD came to the door. I had met him for the first time at last year's Thanksgiving dinner.

"Do you remember last year's Thanksgiving Feast?" I asked as I handed him the pie.

"Yeah," he said nodding with a spark of recognition as he was clearly picturing the memory in his mind.

"This Pie is to remind you of the fellowship we had that night and that we still have no matter what COVID's doing to us," I explained. It sounded a little strange to say that, but that's just exactly what was on my heart.

Somewhat to my relief, he nodded understandingly, and a kind, radiant smile came to his face, and he thanked me. COVID, on-line learning, vaccines, lockdowns, ICU's, budgets, joblessness, all those imposters were unmasked for a moment and a 61 year old, by God's grace, through an open door felt resurrection power coming from a 13 year old holding a Pie. The Brazilians have an expression, "caiu bem" literally meaning "fell well". But it's real meaning is something you love eating that feels delicious all the way down to your gut.

JD's smile "caiu bem" in my heart. That's what sharing life tastes like. And I encourage and challenge all of you to find the life around you. Resist the pandemic by sharing life.

Thank you and God bless you and stay safe! If you'd like to "Pie" us with a donation on-line, click the link here; we'd be grateful. But my primary purpose is I love you, I am grateful for you, and I want us to fight, together, with life. It cannot be overcome. Caiu bem.

Peace,
Rob